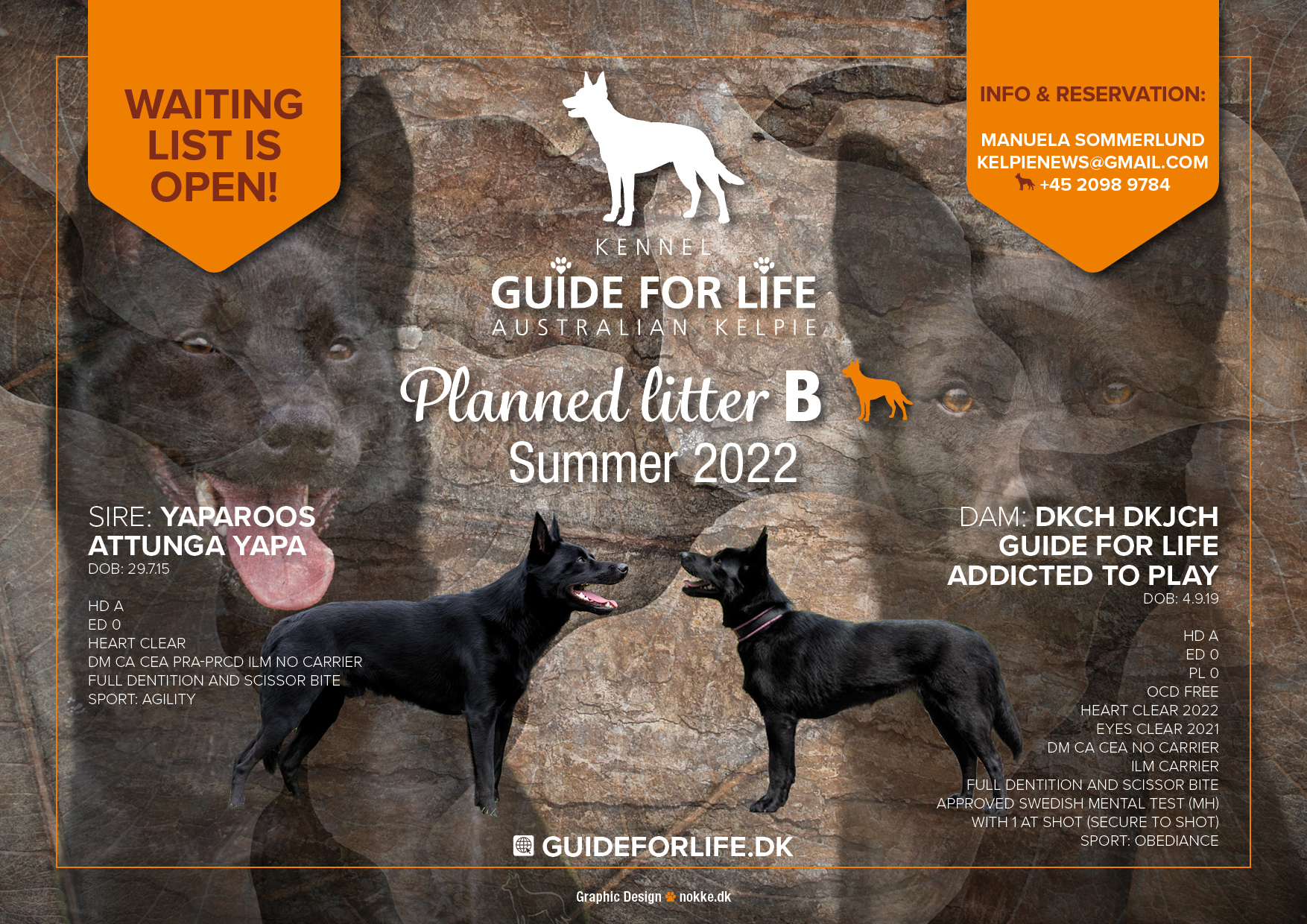 Forældre / Parents
Sire: Yaparoos Attunga Yapa
Dam: DKJUCH DKCH Guide for Life Addicted to Play
Forventer B-kuldet til sommer 2022 / Expects the B-litter sommer 2022
Yaparoos Attunga Yapa
DOB: July 29, 2015 I Colour: Black I Height: 52 cm
Yapa is a very handsome male with strong workdrive. He has a great character, friendly to humans, strong drive to work and has a good off button in home. Will do anything you ask of him. He is great to train with and very easy to motivate with both toy and food. In Sports (agility mostly) he is very speedy. Can stand to higher level of pressure. Yapa is really confident and trust you completely. He lives with a family including small child and with other intact males. He can be dominant confronted with other dominant males, but chooses to respect them if there is no problem. He loves the ladies and is happy to do anything they want him to do.
Health results
HD: A I ED: 0 I Heart: Normal, 2021, 2022 I Eyes: Free, 2022 I Dental: All teeth and scissor bite
Genetic test:
ILM: Free I CA (LINGO3 and VMP1): Free I CEA: Free I DM: Free I PRCD: Free
Results
Agility class 2 (Large)
Pedigree of the B-Litter
https://pedigree.meringa.se/Pro/pp_trialmatingpedigree.php?name=Guide+for+Life+B-Litter&gender=Female&selectsire=YAPAROOS+ATTUNGA+YAPA&selectdam=GUIDE+FOR+LIFE+ADDICTED+TO+PLAY&gens=5&db=pedigreecopy&submit=Create+trial+mating
Health
The litter will be free of CA (LINGO3 and VMP1), CEA and DM since both parents are genetically tested free.