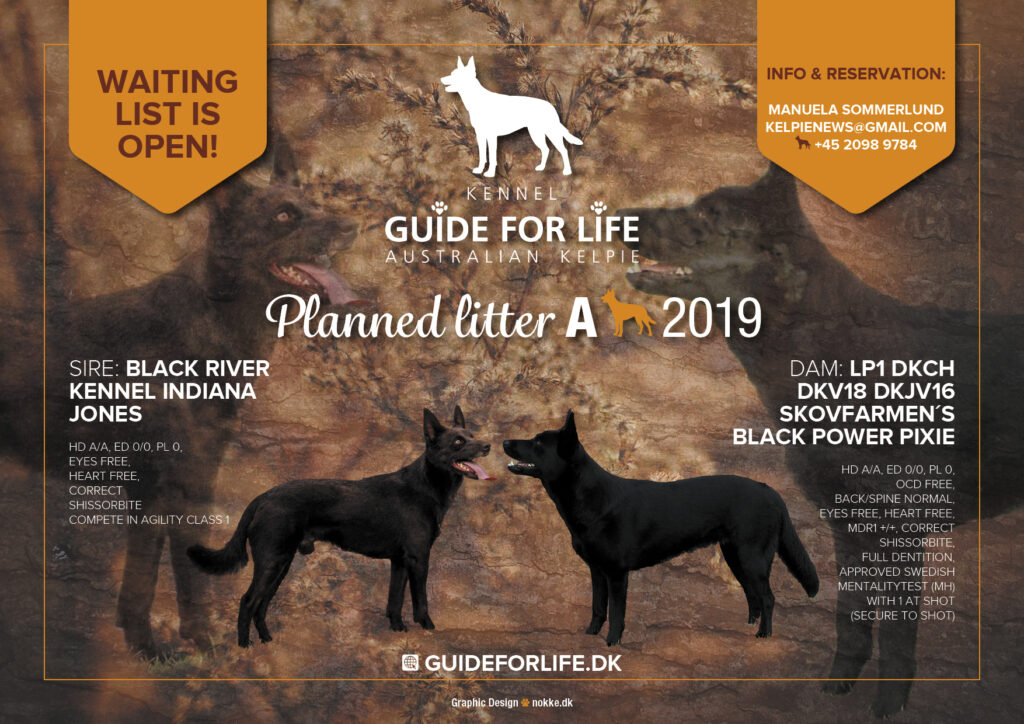 Forældre / Parents
Sire: Black River Kennel Indiana Jones
Dam: PL1 DKCH DKV18 DKJV16 Skovfarmen´s Black Power Pixie
Black River Kennel Indiana Jones
Nicole Innocentzi, Owner of BRK Indiana Jones and Black River Kennel discribes him this way: "Indi is a fantastic dog both with dogs and people. He is extremely social and even with dogs that are dominant, he sends signals that can calm everyone. He's very good with puppies and cats. When Indi is working he´s a generous and docile with no nerves and he has a big head. For me Indi is the best dog I've had to work with and in everyday life"
Sundhed / Health results
DOB: May 3, 2015
Height: 48 cm – Weight: 15 kg. – Colour: Brown
HD: A I AD: 0 I PL:  0 I Heart: Normal 2017, 2019, 2020I- Eyes: Free 2016, 2017, 2019 I Dental: scissor bite
Genetic test: CEA: Free I DM: Free 
Resultater / Results
Agility grade 1 (Large) – NHAT (Natural herding attitude test) –  In training for CAL2 – CAL3
A-Kuldet / A-Litter
Stamtavle på A-Kuldet / Pedigree of the A-Litter
DOB: September 4, 2019
Guide For Life Addicted To Trouble aka Amaroo
Sex: M I Colour: Brown I Lives in: Germany 
Dental: All teeth and scissor bite I Other: Kryptokid
Genetic test: CEA: clear by the parents I DM : clear by the parents 

Guide For Life Addicted To Speed aka Hei Hei
Sex: M I Colour: Black I Lives in: Denmark 
Other: MH – Approved mental test and gun proof
HD: B I ED: 0 I OCD: Free I Back: Normal I Dental: All teeth and scissor bite I Other: Kryptokid
Genetic test: CEA: clear by the parents I DM : clear by the parents 

Guide For Life Addicted To Fun aka Lucy
Sex: F I Colour: Brown I Lives in: Denmark 
Other: MH – Approved mental test and gun proof
HD: A I ED: 0 I Dental: All teeth and scissor bite
Genetic test: CEA: clear by the parents I DM : clear by the parents 

Guide For Life Addicted To Play aka Astra
Sex: M I Colour: Black I Lives in: Denmark I Titles: DKJUCH DKCH
Other: MH – Approved mental test and gun proof
HD: A I ED: 0 I PL: 0/0 I OCD: Free I Back: Normal I Heart: Free, 2022 I Eyes: Free, 2021I Dental: All teeth and scissor bite
Genetic test: CEA: clear by the parents I DM : clear by the parents I CA (LINGO3 and VMP1): Negative I ILM: Carrier
Guide For Life Addicted To Love aka Mini
Sex: M I Colour: Brown 
Put to sleep 5 weeks old probably due to ILM.
The genetic test wasn´t availade at the given time in 2019. After reading the report, when the genetic test became available in 2020, I can see Mini had alle the signs of ILM.  In 2020 I tested Pixie and she is carrier of the gene. I have informed the owner of Black River Kennel Indiana Jones, which unfortunately hasn´t been testet yet.